Released games
Under wraps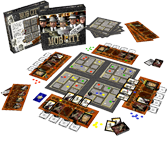 MOB CITY
for 2 to 6 players.
"...The latest attempt on the Don's life has left him very weak - the doc gives him about a week to live. Naturally he's seeking a worthy replacement to head the family so it's up to his Captains to prove themselves before his departure.."
Set in the roaring 20's, Mob City gives you all the thrills and spills of the notoriously dangerous prohibition era!
Hire enforcers, bribe police, extort buildings, pay snitches and open speakeasies to rake in all that lovely dough! But be prepared for deadly shootouts as there are others out there who want to become the next Don!
MOB CITY INFO: Ages: 12 - Adult, Players: 2 - 6, Duration: 30 - 120 mins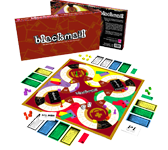 BLACKMAIL
for 2 to 6 players.
"...the game where friendship can cost you an arm and a leg..."
The exciting game to play with family and friends! But watch out, you'll be friends one minute and blackmailing each other the next! It's surveillance cameras, blackmail letters. and a whole lot of negotiation!
BLACKMAIL INFO: Ages: 12 - Adult, Players: 2 - 6, Duration: 60 - 180 mins